So, I purchased Elf'd from Ellen Hutson a while ago, like the day it was released. I couldn't wait to get my hands on that adorable little elf with the little smirk and cheeky sentiments. But then, I decided that I didn't want to start putting Christmas stuff on my blog until at least October, because then I might get burnt out, blah blah blah.
Well, yesterday I was doing some organizing (read: trying to clean up the massive mess that is my desk) and found this set. After re-reading the sentiments, I couldn't wait any longer to put them to use, so I decided to make this card: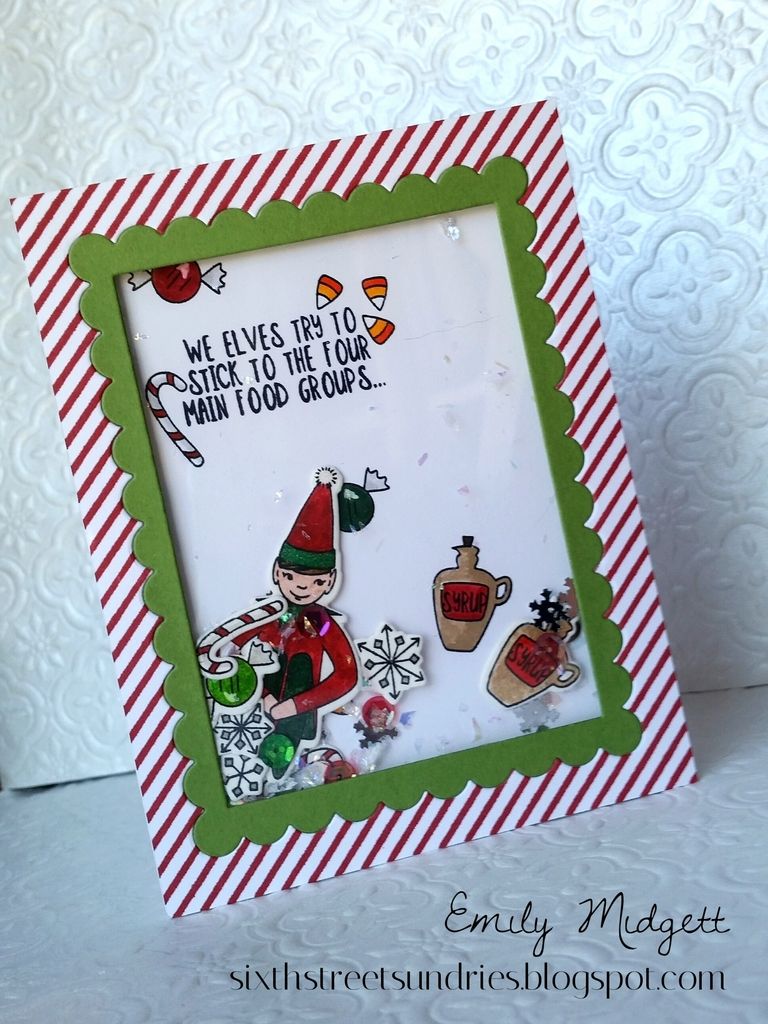 "Elf" is one of my favorite Christmas movies, though… don't shoot me for this… I really don't care for Will Ferrell as a general rule. (I hate how he portrays characters who are so idiotic that they couldn't possibly be real, but the movies are set in the present and not in some alternate dimension. Yes, I have thought about why I dislike Will Ferrell's movies to this level of specificity.) This line, "We elves…." pretty much describes my diet if I could eat anything I wanted all day long and still look okay in a pair of elf tights. I don't look okay in elf tights after eating halfway healthy, so I will just stick to putting candy corn and syrup in shaker cards.
I stamped a white panel of cardstock with Hero Arts Red Royal ink and Market Street Stamps diagonal stripe background stamp, then die cut the frame with the rectangular frame from PTI's Shakers and Sprinkles die set from both the striped panel, a piece of fun foam, and a scrap piece of green CS. I die cut the little smirking elf and his chosen foods from watercolor card stock, stamped them with Archival ink, and colored them with my Zig Clean Color markers (without using water). I stamped the candies and syrup again on the card base, along with the sentiment, then colored them in. Some sequins from Hobby Lobby and some faux snow from my Tinsel and Tags kit went inside the shaker along with all of the colored die cuts.
I hope you enjoyed this card! I think I've got the Christmas bug out of my system for a few more weeks, but be prepared for an onslaught of Christmas cards starting in October.
Have a fabulous day, friends!