Hi friends! I hope you had some wonderful crafty fun on World Cardmaking Day. Alas, my day was consumed with buying a van (yes, we finally did it and boy do I officially feel older…), so I didn't get to play. Sadface.
I've mentioned before that my cousin's wedding is coming up in a little over a month, and so I of course had to create some monogrammed stationery for her. (Anybody who has ever known me should expect to receive monogrammed stationery from me at some point in their lives. It's what I do.) Her shower was Saturday, and bummer of all bummers, I couldn't make it. So, I had to make some extra special gifts for her. One of the gifts was a special request from the bride: her wedding jewelry. I've made jewelry for the last decade, and so was I ever honored that she asked me to make the jewelry that she would wear at her wedding. (Pardon the terrible lighting in the photo; 10 pm is not optimal for a photo shoot.)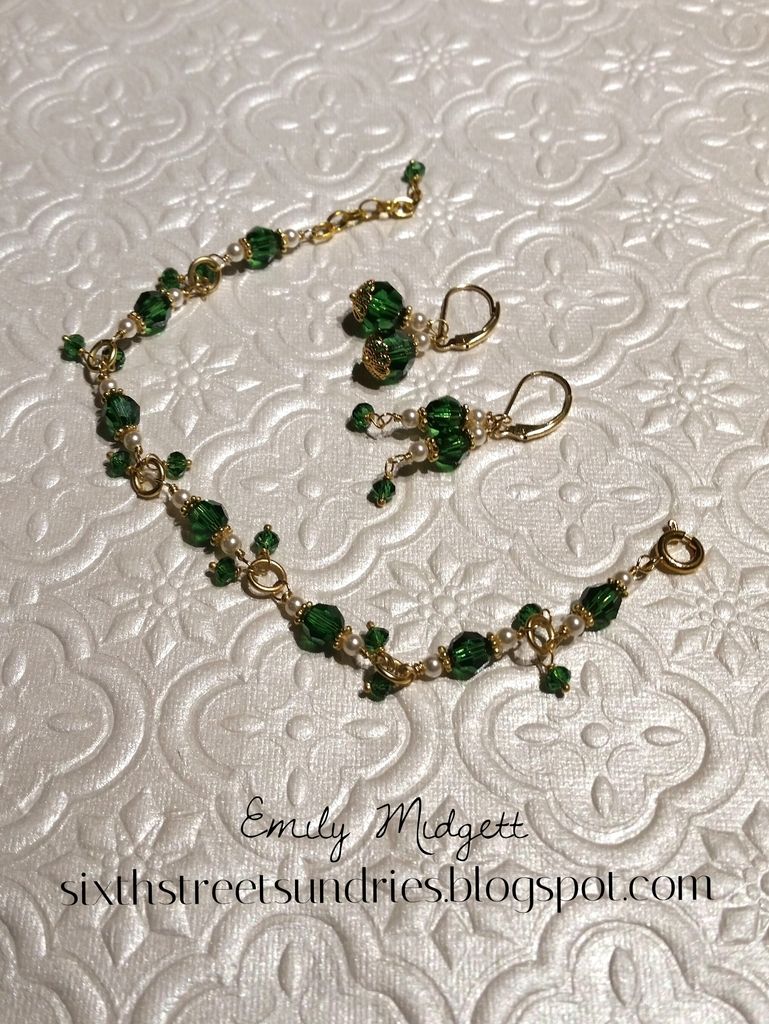 Her colors are very beautiful and autumnal: emerald green dresses with a variety of oranges and reds in the flowers, including dahlias. I decided to make the dahlias the focus of the stationery.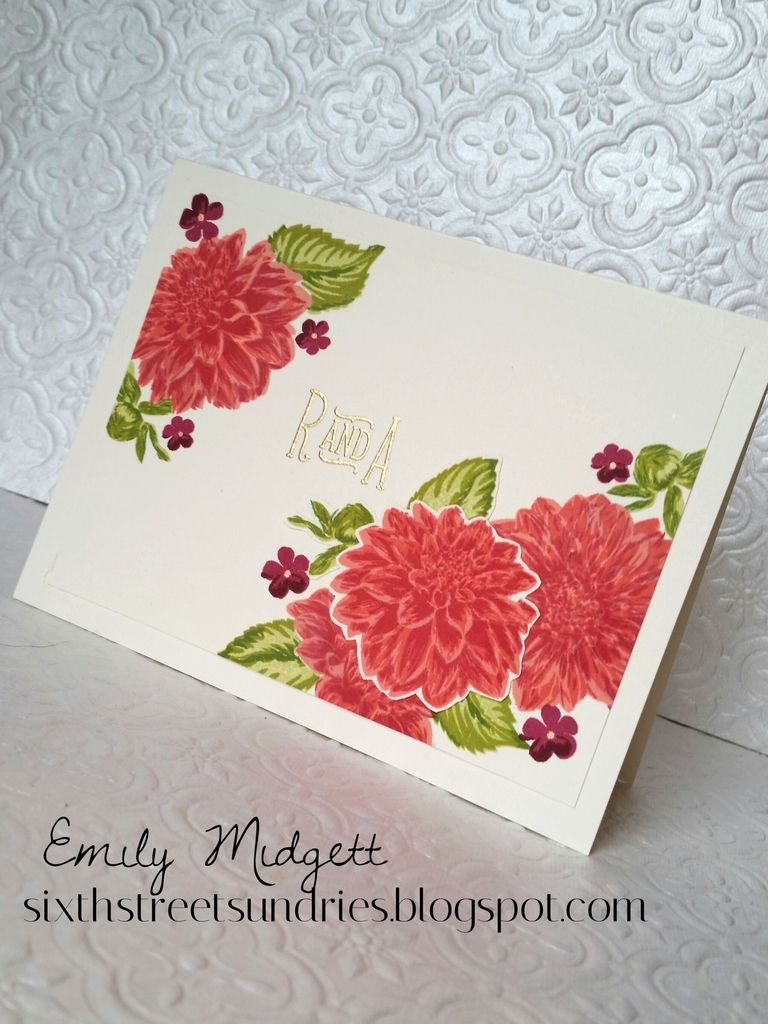 After double stamping these beauties using Hero Arts's Fresh Peach, PTI's Berry Sorbet, and HA's Red Royal, I used the Molotow Masking fluid that Jennifer McGuire showed in a video a few weeks ago to add the leaves. I considered fussy cutting a mask from Post It paper, but I was afraid the ink would start to bleed through after a few impressions. I am overall quite pleased with the masking fluid, though it did leave a bit of a bluish tinge to my flowers (that probably isn't noticeable to anybody but me, but there it is). I really was pleased with how quickly the masking fluid dried; they were ready to go within 20 minutes of the initial application, probably sooner if I had been paying more attention. I did end up stamping another set of flowers and fussy cutting them and the leaves out, because after I stamped the initial set of three leaves, I wasn't pleased with the layout. After I had the flowers arranged to my liking, I added the little accent flowers in HA's Raspberry Jam (probably one of my all-time favorite ink colors) and PTI's Scarlet Jewel. The centers were added in with an orange Stardust pen. For the final step, I heat embossed their monogram (since she isn't taking his last name, I had to get creative with the "monogram") using Princess Gold embossing powder.
I made a set of eight cards…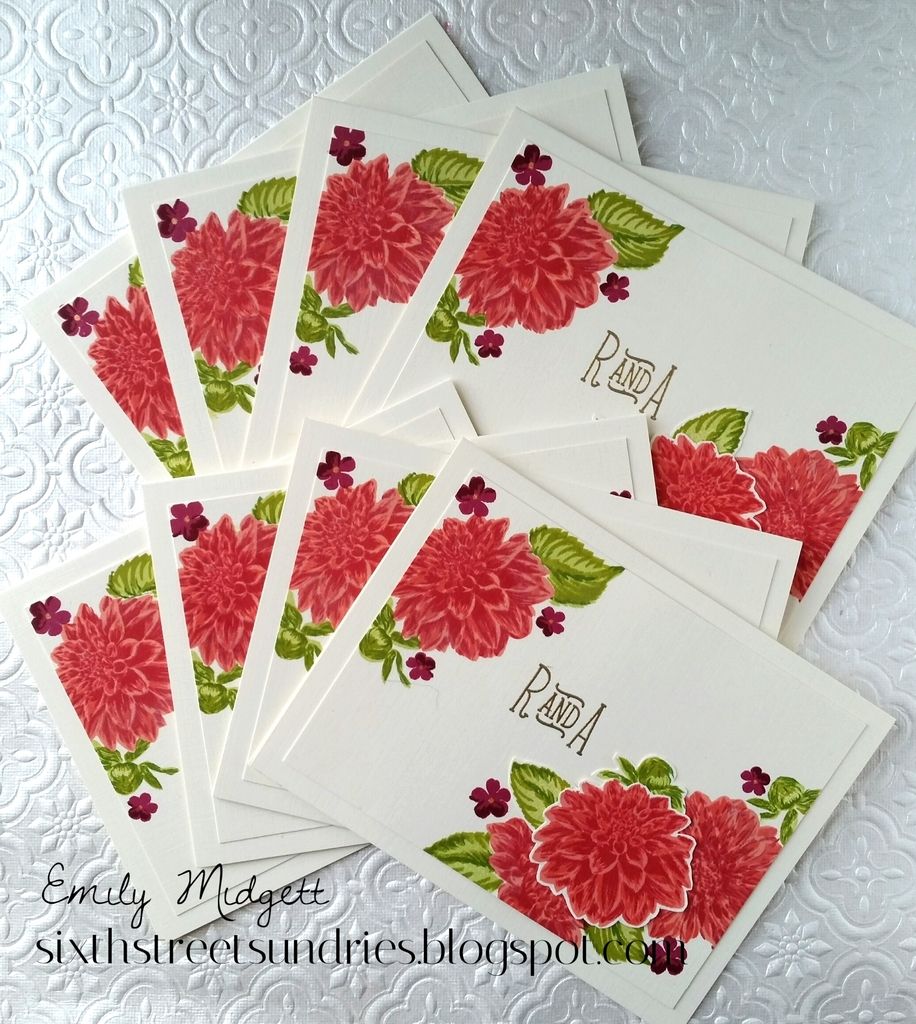 Along with a box to hold them…
The box was created using my We R Memory Keepers envelope punch board, and I added a band of coral-y red paper around to create a belly band. A Vintage Cream scalloped oval die cut from PTI and some more beautiful dahlias finished it off.
I hope she likes these cards! I have an idea for another set of cards to give her for her wedding that matches her invitation better; my brain heard "dahlia" and immediately wanted to use this set. I'm going to be linking this up to The Ton's blog for their WCMD festivities. Can't wait to see everyone else's creations!