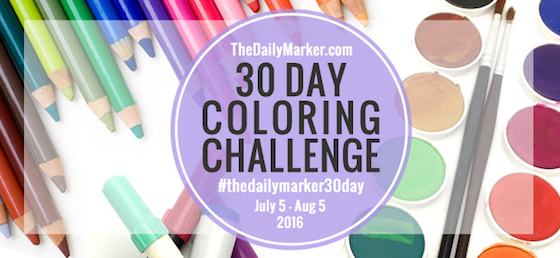 Hello, friends! I'm here today after what seems like a really long hiatus to play along with #thedailymarker30day coloring challenge that began on July 5, 2016! I've been playing along each day on Instagram (I'm @eamidgett over there), mostly just showing snippets of the projects and images I've been working on. My goal is to participate each day (or at least as many days as I possibly can) and to use stamp sets that I haven't used before. (I have an embarrassingly large amount of stamp sets in my arsenal that I've never used…. Insert blushing emoji here….) I had some time this morning to turn all of my watercolored pieces into actual cards! Yay! I posted this watercolored tulip from The Ton's Lucky Tulip stamp set last week.
I started by heat embossing that gorgeous tulip image using white embossing powder onto Montval Cold Press watercolor paper. I then used Light Carmine and Tea Rose markers combined with a wet paintbrush to create this gorgeous shade of coral… And I think I may have found a new favorite color combination, at least for the moment. LOVE anything coral these days. I colored the leaves with the Emerald Green Zig marker and a wet paintbrush. I fussy cut the image after it was dry and then set it aside to await a final project idea.
Papertrey Ink recently came out with a line of large scale sentiment dies, and I absolutely love them. They're so perfectly sized and have so many wonderful sentiments. I die cut this Thanks die from both white card stock and the thin chipboard coasters that PTI sells. The combination of the chipboard and the sturdy white card stock gives just enough dimension to make this rather intricate die quite strong. I had a gold frame from the interior of the Pretty Frame cover plate die (also from PTI) in my box of extraneous die cuts. I paired everything with a "smooshed" watercolor panel. (Basically, I tapped some Hawaiian Shores ink on a piece of acetate, spritzed it with water, then laid down a piece of watercolor card stock on top, giving it that cool mottled watercolor-y look. There are a few YouTube tutorials that can show exactly what I'm talking about.) I put all of these together, popping up the gold frame the tulip, and part of the Thanks with dimensional adhesive, then adhering the whole thing to a coral colored card base. A few peachy sequins from Lucy Abrams finished it off.
I hope you're all playing along with The Daily Marker 30 Day challenge…. it's so much fun, and so very rewarding to carve out just a few minutes each day to sit down with my watercolors and my stamps and just play. It makes it even nicer if it actually turns into a blog-worthy card. 🙂