Hi there! Today, I wanted to share some information about an event coming up for Pinkfresh Studio: Create & Connect! This virtual cardmaking event will take place on November 6 & 7, with some of your favorite cardmakers teaching classes all weekend long! You'll receive an exclusive bundle of brand new products, and I'm so excited to have been asked to design a stamp set! (You can see a sneak peek of the set that I designed in the graphic below.) I will be demonstrating basic watercoloring techniques, as well as some more advanced techniques, time permitting. Read on to find out all of the details on this fabulous event!
~~~~~~~~~~~~~~~~~~~~~~~~~~~~~~~~~~~~~~~~~~~~~~~~~~~~~~~~~~~~~~~~~~~~~~~~~~~~~~~~~~~
***PLEASE DO NOT PURCHASE ANY OTHER PRODUCT WITH THIS REGISTRATION.

***REGISTRATION CLOSES ON SEPTEMBER 5TH AT 11:59 PM CST.

***ALL OF THE INCLUDED CONTENTS OF THIS KIT ARE VALUED AT APPROXIMATELY $350+.

We are so excited to announce our first Create & Connect virtual event! Join us November 6-7 for 2 jam packed days full of crafty fun with our amazing instructors: Lea Lawson, Heather Hoffman, Laura Bassen, Carissa Wiley and Emily Midgett. Get the luxury of creating beautiful Pinkfresh Studio cards from the comfort of your own home with these five amazingly talented cardmakers!
Registering for our Create & Connect virtual event will give you access to 5 LIVE classes during the event dates, using brand new Pinkfresh Studio products that have never been seen or sold before! Throughout each class you will explore and learn new card making techniques, while gaining tips & tricks for using your favorite Pinkfresh Studio products.
Each class will be 2 hours long, and you will create 2 cards with each instructor. We will provide a printed booklet for each class with instructions for each card created in case you want to complete the class projects at your own pace.
Each instructor will also provide a bonus project and project sheet for a Make & Take card that you will create on your own. These will give you more ideas for stretching your supplies and getting continued use from all the beautiful projects in your event kit!
What is included in your event kit? Let's take a look!
Class 1

Elegant Note Cards with Carissa Wiley
(1) 4 x 6 stamp set
(1) coordinating die
(1) coordinating stencil
Class 2

Timeless Watercolor Florals with Emily Midgett
(1) 4 x 6 stamp set
(1) coordinating die
(1) coordinating stencil
Class 3

In The Meadows with Heather Hoffman
(1) wide washi roll (4" x 10 yards)
(1) 4 x 6 stamp set
(1) coordinating die
Class 4

Celebrate In Style with Lea Lawson
(1) 6 x 8 stamp set
(1) coordinating die
(1) coordinating stencil
Class 5

Built On Dreams with Laura Bassen
(1) 4 x 6 stamp set
(1) coordinating die
(1) coordinating stencil
Other products included with the kit
(2) Essential dies
(1) A2 Hot foil plate (we will share a dry embossing technique)
(1) pack of specialty bling
(3) 8.5 x 11 premium watercolor sheets
(1) pack of foiled sentiments ephemera
(1) Printed booklet with project sheets for all the in class projects + make and take projects (10 in class projects + 5 make and take projects)
And some really fantastic event swag that is useful & high quality that we think you will just LOVE!
-Kits will be shipped out between Oct 20 – Oct 25.
-International kits will be shipped out via DHL/UPS/Fedex to avoid any shipping delays.
You will need to have your own general supplies to finish the class. Items are listed below.
White cardstock (We recommend Hammermill 100LB premium cover cardstock)
Dye inks (we will share the list of inks used by our instructors)
Blending brushes
Watercolors (Our class instructor will recommend her favorites)
Watercolor brushes
Diecut machine
Paper trimmer
Scissors
Liquid glue
Foam adhesive
Tape runner/double sided tape
Stamping platform
Jewel picker
Stamp cleaning cloth/Baby wipes
Glass mat (optional, but helpful)
Create & connect classes will take place in CST time zones between 9:00AM – 6:00PM in a private Facebook group that only registered attendees will be allowed to join. All of the class videos will be available for later viewing in the private Facebook group. We will send you a link to join our create and connect private facebook group 2-3 weeks after registration closes.
Not only will our opening welcome session and all classes take place in the group, but you will be able to share your projects with us and connect with all of the instructors and fellow students! We hope this event will make lasting connections and friendships between cardmakers from all over the world. We cannot wait to create and connect with you!
Disclaimer: All of the products included in this kit are not released before and are brand new. We will be releasing these products at a later date to the general public at full retail price.
~~~~~~~~~~~~~~~~~~~~~~~~~~~~~~~~~~~~~~~~~~~~~~~~~~~~~~~~~~~~~~~~~~~~~~~~~~~~~~~~~~~
Registration has been open for a bit, so you might already have registered. If so, fabulous! I am so excited to be teaching at this great event, and I'm even more thrilled to be teaching using a stamp set that I've designed! My class will be a watercolor class, and while the kit includes the basic tools needed for my class (stamps, dies, watercolor paper), I wanted to give a few recommendations for my favorite watercoloring tools that will come in handy during the class (affiliate links used where possible):
Watercolors
For watercolors, I wanted to give an inexpensive option and a higher quality option. I have an extensive array of watercolors (much to my husband's dismay, ha), and I've found that the higher quality watercolors generally give a better result and they last longer than the less expensive paints. The reason higher quality watercolors are more expensive is because they contain more pure pigments and a smaller amount of fillers. I find that higher quality watercolors generally seem to last longer, simply because you have to use less pigment to achieve vibrant color on your watercolor paper. I am going to be using the Daniel Smith colors during class, but I will be focusing more on technique than the specific colors, so you can choose whichever watercolor brands and colors best suit your budget or comfort level. The following links are merely my suggestions; please feel free to use whatever watercolor medium with which you are comfortable.
Daniel Smith-Ultimate Mixing Palette- this is a handy, pre-poured palette of Daniel Smith paints in 15 different shades. I purchased my first Daniel Smith paints 4 years ago, and I find them to be top of the line. Highly, highly recommend. This set is a great variety of colors, and the great thing about watercolors is that you can mix them to create your own unique shades! (AZ|EH)
Daniel Smith Watercolor Essentials set– This set comes with six 5 ml Daniel Smith tubes: a trio of cool primary colors and a set of warmer primary colors. These six colors can be mixed to create an endless amount of combinations, so if you are relatively comfortable with color mixing but haven't tried the Daniel Smith line of paints, these would be a great option to begin building your palette. (AZ|EH)
Edited To Add: Now that I've created the projects for the class, I'm able to tell you exactly which watercolors I will be using, keeping things to a cool rainbow palette in 8 shades, plus a gray:
Quinacridone Red
Quinacridone Coral
Nickel Azo Yellow
Green Apatite Genuine
Jadeite Genuine
Indanthrone Blue
Rose of Ultramarine
Quinacridone Pink
Moonglow
Prima Tropical Palette-The Prima watercolors are a nice option for those who don't want to invest in the Daniel Smith paints. They are beautifully vibrant, but the opacity and pigment movement is definitely different than the highly pigmented Daniel Smith paints. A lovely variety of colors at a great price point. (AZ|HBS)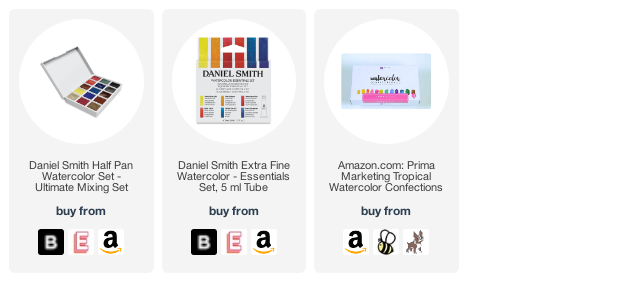 Brushes
For paintbrushes, I generally stick to round brushes. My go-to brand is Silver Black Velvet; I find the way that they release water to work best with my watercoloring style. I would recommend a number 8 round and a number 4 round for our class. The larger size works well for background washes and larger areas, while the smaller number 4 round brush works well for details. The Silver Brush Silverwhite brushes are a great brush as well, made of synthetic hair and at a slightly lower price point.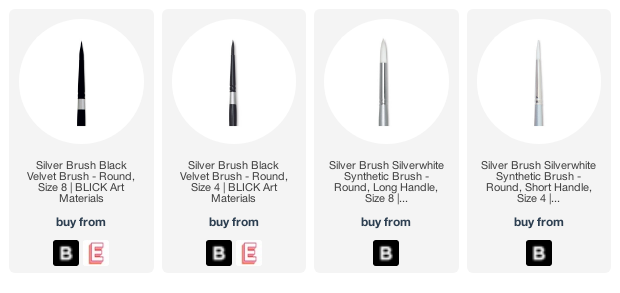 Other suggested supplies:
~Low-tack washi tape or painter's tape
~Watercolor Board or cutting board
~Porcelain plate/saucer/palette for mixing (you can also use the lid of your watercolor palette if you are using one to store your watercolors)
~Embossing Ink
~Your favorite shade of embossing powder
Well, that's all of the information that I have for you! Registration closes at 11:59 central time on September 5, 2021.
If you'd like to register for the class and live in the United States, please click HERE.
If you'd like to register for the class and live in Canada/International, please click HERE.
(It's very important to choose the correct link to purchase your registration, so please be careful!)
If you have any questions about the event, please feel free to email me (eamidgett at gmail dot com) and I will do my best to answer your questions or direct you to someone who can answer them more completely!
Thanks so much for reading, and have a marvelous day!