Hi friends! It's been a bit, hasn't it? I have a good excuse, promise. Make that two good excuses! Meet Ben and Sam!
My (second set of) twins were born a bit earlier than expected at the beginning of April. You might know this if you follow me on Instagram (I'm @eamidgett), but if you don't follow social media, you might not have seen these little guys yet. I had a couple of people reach out to ask where I went (thank you for caring <3), so I thought I'd pop on here and share my littlest fellas!
Because of their unexpectedly early arrival, I wasn't able to share my projects for the Honey Bee Stamps Bee-day release! I collaborated on two different stamp sets for this release: In Full Bloom and Farm Fresh Flowers.
I have a few projects to share with you using these new sets (and some of the other goodies from the latest Honey Bee release, as well!). I won't go into super huge detail, though, as my little guys are about to wake up from their naps! If you have specific questions about a project, please feel free to email me or leave a comment, and I will do my best to answer!
For this first project, I put the floral frame from In Full Bloom to use with the coordinating interior polygon die to create a pretty flowered shaker card. I colored the flowers with Copic markers in shades of pink, magenta, and coral! A bit of coral ink blending on the card base behind the shaker window added a pretty background for the sentiment.
My second project uses In Full Bloom again, this time pairing it with the new Polygon Thin Frames and some no-line pencil coloring. I stamped the main image from In Full Bloom on some black cardstock using white pigment ink, then coloring it using Caran D'ache Luminance pencils, adding a white die cut sentiment and and Polygon Thin Frame, popping it up on a black card base for some tone-on-tone with a pop of color!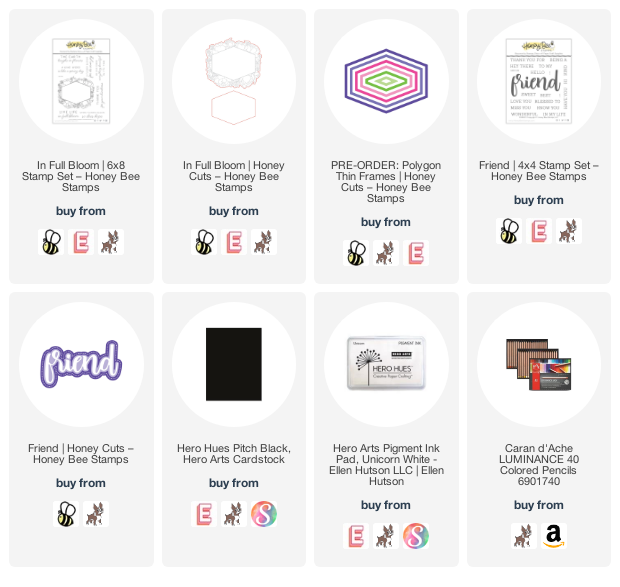 My next project uses the new Farm Fresh Flowers. I heat embossed the super detailed spring bouquet and pitcher onto some watercolor paper, then watercolored the image using Karin markers in pretty shades of peach, coral, pink, and emerald green. I mounted it on a background that I'd stamped using the new Buffalo Plaid clear background stamp, finishing it off with a sentiment and some gems.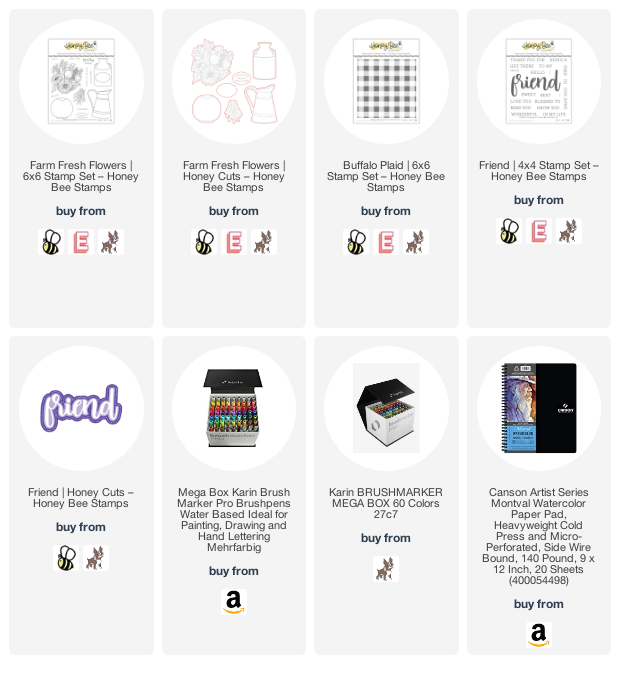 Next, I wanted to share some projects using some of the other darling new (non-floral, ha!) products from the birthday release! This project features Safari Babies, which I no-line watercolored using Distress Oxide inks for a super soft, almost storybook feel. I heat embossed the greeting from the Safari Babies stamp set, die cutting the images wit their coordinating Honey Cuts. I blended some white pigment ink on a blue card base using the Clouds stencils, adding a grass border and a few sparkling heart die cuts.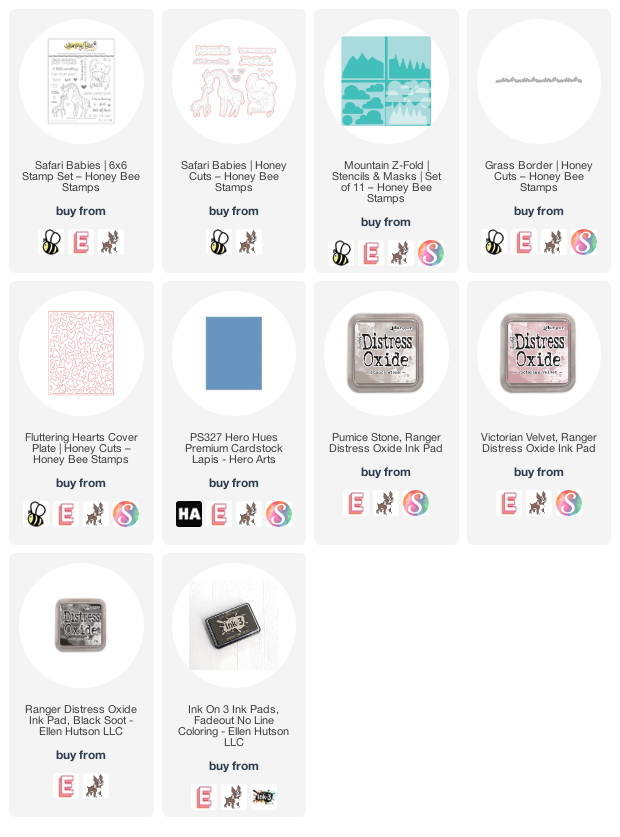 For my next project, I used the new Balloon Alphabet dies and Happy Beeday stamps to create a sweet birthday card. I die cut letters for "celebrate" from some dark gold cardstock, as well as a vellum polygon and celebration bear. I mounted all of the die cuts on a panel of patterned paper from the Spring Fling paper pad.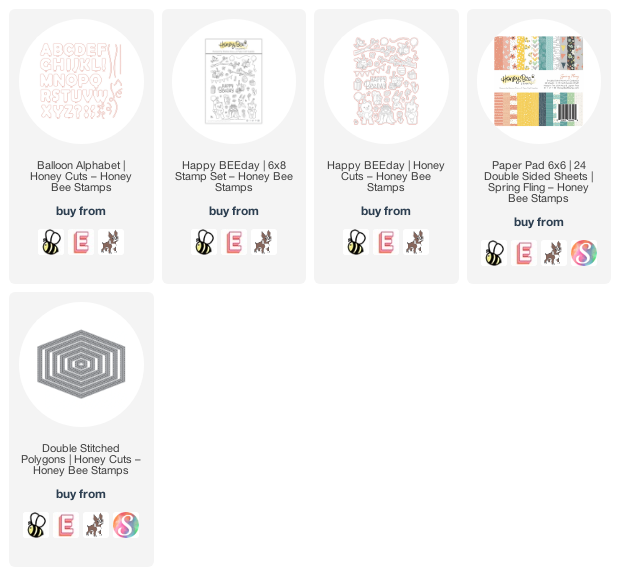 For my final project, I used the darling stamps and dies from the Happy Beeday to create a sweet birthday party scene, stamping several elements and adding color with Copic markers, then die cutting with the coordinating Honey Cuts. I added a greeting using the new Birthday stamps and Honey Cuts.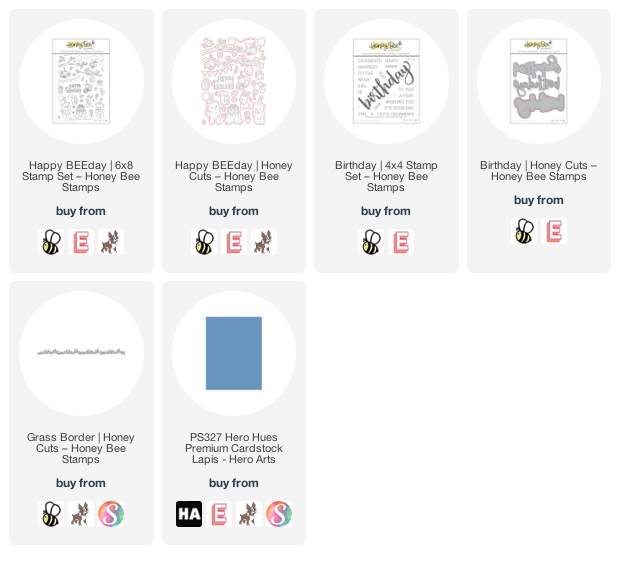 Well, that's all for my projects! I am so sorry it took so long for me to share these… it's been a busy few months! Honey Bee has a new release coming soon, so I will hopefully be back to share some of those projects very soon! Thanks so much for stopping by today, and have a marvelous day! Stay healthy, friends!